[This is ONLY the rough draft, but I'm publishing some of it early since I said I'd have it by the weekend. There's just too many screenshots to upload to make this a quick post, but there's enough below that readers will get the point about why I refer to James White followers as the "James White Cult". I will add to this post and fix errors later]
Dr. James A., PhD
Part 1 of this series will focus on the cultic mindset that the worshipful sycophants of James White of Alpha & Omega "Ministries" display in support of him. Scripture tells us that if a ruler hearkens to lies, all his servants are wicked (Proverbs 29:12). This is certainly analogous to the instant case where James White's followers employ an "any means necessary" strategy to suppress dissent against White, rivaled only by the most vile social justice warriors like Antifa. These Saul Alinsky type tactics are indicative of White's leadership.
White's followers are made of mostly anonymous accounts. Those on the Twitter #Oldpaths hashtag are well aware of the years of harassment they've experienced from thousands of these accounts. Many of White's supporters created parody accounts of his detractors to stalk them, and follow their every online move. Most recently, this has been done to me, Pastor Steve Camp, Brannon Howse, and several others who have opposed White's recent participation in Islamic interfaith dialogues.
Now granted, under most circumstances it would be erroneous and fallacious to attribute to White actions that are merely done on his behalf (a sort of guilt by association). However, White has not only acknowledged these accounts, BUT ACTIVELY ENDORSES AND ENCOURAGES THEM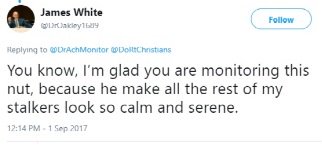 DrAchMonitor to whom White is responding along with my own Twitter account tagged (DortChristians) is a parody account made by Fred Butler of Grace To You Ministries. Although I have repeatedly emphasized that Dr. James Ach and Dr. James A (me) are not the same, White's cult has found the accusation a useful gaff in trying to aggravate me. But nevertheless, all references the White cult makes regarding "Ach" are meant to identify me. Why that's important to them is a mystery, but I digress.
It is also of interest that well it's perfectly acceptable for White to consult with parody accounts, to point out White's errors and hypocrisy is "stalking". How one doesn't see the irony in praising a parody account while in the same breath denouncing "stalking" is beyond me. But it does show quite a breach in White's logic, or simply reveals his true motives in the lengths he's willing to go to discredit his adversaries. But, since White has "single-handedly" saved the Muslim world, there is nothing off limits in protecting your Superman.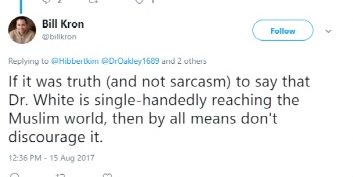 Here are just a few examples of the most vile, vitriolic, nasty, and egregious posts from White's cult. Once you have read them, you will be able to see right through the Alinsky tactics they use in accusing White's adversaries of doing the very thing that THEY specialize in. It is ironic that when I opened the door to debate on of these parodies, Calvinist Fish, he would not answer whether or not Jesus is Lord, and I have long suspected that some of White's most ardent supporters are atheists and Muslims.
First of all, White's supporters brag out "trolling". The following is from James White's daughter's best friend, Katie Boettcher ("Catbo222")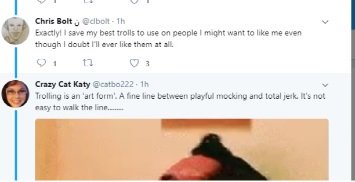 Here is "Pastor" Nick Johnson, making fun of the plight of my minor children. (Screenshot and explanation) It is one thing to point out a minister's adult child involved in theological error or blatant unbiblical practices (as with James White's daughter supporting Jesuit teacher and feminist, Karen Swallow Prior-whom James White himself has criticized for using 'gay affirming' language, and his daughter's endorsement of an LGBT musical group, Pentatonix), but quite another to use a tragedy that has occured to your minor children not in your custody against you because you're not adult enough, or Christian enough, to handle criticism of your favorite religious personality.
Next, we have the White Klan using some course homosexual jokes, and a song about "ding a lings" to describe me, which James White seemed to really appreciate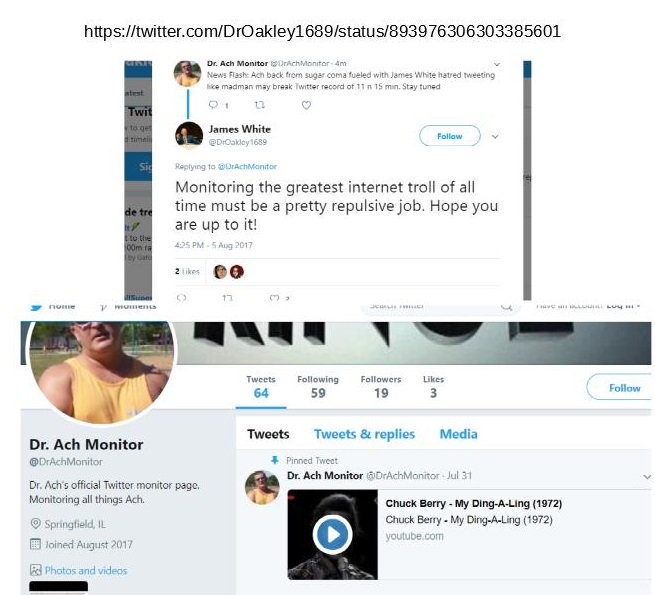 Of course, "The Monitor" tried to explain away the blatant sexual references of the Chuck Berry song, but any casual perusal of the lyrics can clearly see its not about high school bells.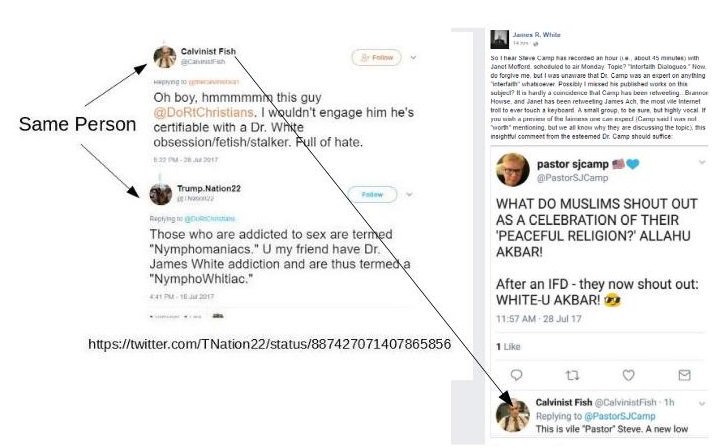 White's followers even stooped so low as to try and get my account suspended by saying that I was attacking LGBTs because I was criticizing them